"Doubled Back"
By
Bev Doolittle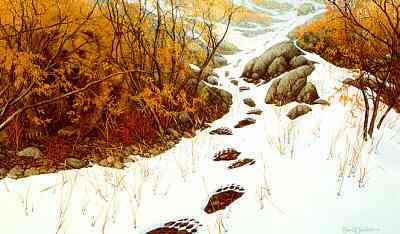 ---
"Doubled Back" by Bev Doolittle
Limited Edition On Paper
Edition size : 15,000 signed and numbered prints
Image size : 34"" x 21-7/8"
Issue price : $410.00 Canadian; U.S. $245.00
Issue date : May 1988
Publisher Sold Out
Price Available Upon Request
"How long has it been since the grizzly bear was standing right here...where is he now? Look closely at those tracks. The snow is crisp and clean and the edges haven't begun to melt yet. These grizzly tracks are fresh. How far ahead is he? Not far at all." - Bev Doolittle
Visit All Of Our Bev Doolittle Galleries
Bev Doolittle Main Page
Bev Doolittle Upcoming & Recent Releases


Bev Doolittle Limited Editions


Bev Doolittle Posters & Open Edition Prints


Bev Doolittle Books, Art Cards, Etc.
Call Toll-Free
1-800-694-2143
Art & Nature
16887 Hymus Blvd., Kirkland,
Montreal, Quebec, Canada
Tel.: 1-514-694-2143; Toll-Free: 1-800-694-2143
E-Mail: info@artandnature.com