"The Earth Is My Mother"
By
Bev Doolittle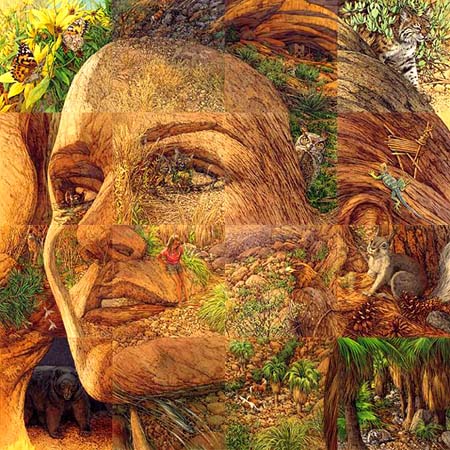 ---
"The Earth Is My Mother" by Bev Doolittle
Limited Edition On Paper
Includes Artist Signed Collector's Edition of the book of the same name
Edition size : 12,500 signed and numbered prints
Image size : 18" x 18"
Issue Price : $460.00 Canadian; U.S. $295.00
Issue date : October 1999
Publisher Sold Out
Price Available Upon Request






Bev Doolittle's "The Earth Is My Mother" Collector's Edition includes the limited edition fine art print and a signed collector's edition copy of the book "The Earth is My Mother". The print is the only way collectors will be able to enjoy this namesake image. It does not even appear as a "whole" in the book. The book "The Earth Is My Mother" contains a folded insert (approximately 9-5/8" x 11") with the 16 images printed out of order. These can be cut out and arranged to reveal "The Earth is My Mother." The book contains 16 color illustrations, and 55 pencil drawings in 176 pages. 7-3/4" x 9-7/8". Each Collector's Edition hardcover book also includes gold stamping.
Visit All Of Our Bev Doolittle Galleries
Bev Doolittle Main Page
Bev Doolittle Upcoming & Recent Releases


Bev Doolittle Limited Editions


Bev Doolittle Posters & Open Edition Prints


Bev Doolittle Books, Art Cards, Etc.
Call Toll-Free
1-800-694-2143
Art & Nature
16887 Hymus Blvd., Kirkland,
Montreal, Quebec, Canada
Tel.: 1-514-694-2143; Toll-Free: 1-800-694-2143
E-Mail: info@artandnature.com