"Hide And Seek" Print Suite by Bev Doolittle
Limited Editions On Paper
Set Of 1 Composite Print of all 24 panels
and 6 Prints of individual panels
Edition size : 25,000signed and numbered prints
Composite Print Image Size : 32-1/4" x 26-1/2"
Individual Print Image Size : 14-3/4" x 10-1/4"
Issue Price : $1,800.00 Canadian; U.S. $1,200.00
Issue date : July 1990
Publisher Sold Out
Price Available Upon Request
Bold in concept, dramatic in execution, and over a year in the making, Bev Doolittle's extraordinary Hide and Seek Suite of interactive images is a delight for both the casual and avid collector.
"I set myself the task of hiding pinto ponies in an environment of rocks and snow," explains Doolittle. "Then I defined and refined each image to create a unique composite work where all the separate pieces come together to spell out the words 'Hide And Seek'".
The result is a masterpiece of "camouflage art" from the unique artist for whom the phrase was invented. Each one of the twenty-four individual images is a delightful exercise in Bev Doolittle's art, blending the pony with its snowy environment brilliantly. But only when all twenty-four come together can you find the letters which are hiding among the rocks and horses.
Whether you display the composite print made up of the twenty-four images, or any of the six individual prints which come from the composite, the Hide And Seek Suite is not only a limited edition event, but a beautiful evocation of the balance between nature and the animal kingdom.
The Suite Includes: The Composite Print signed and consecutively numbered and six individual prints (one signed, and all consecutively numbered and lettered).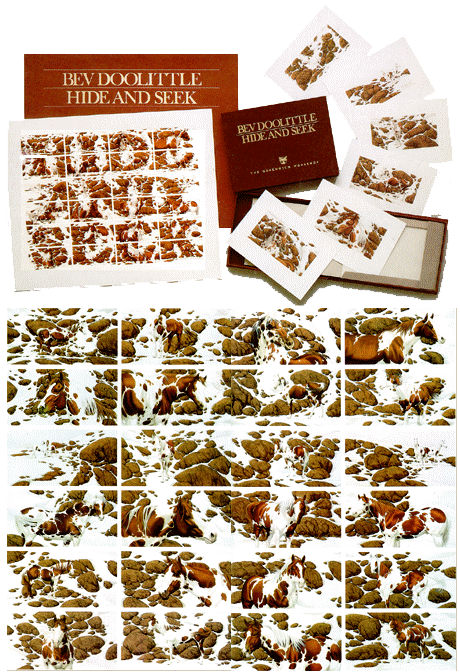 Visit All Of Our Bev Doolittle Galleries




Bev Doolittle Limited Editions


Bev Doolittle Books, Art Cards, Etc.
Call Toll-Free
1-800-694-2143
Art & Nature
16887 Hymus Blvd., Kirkland,
Montreal, Quebec, Canada
Tel.: 1-514-694-2143; Toll-Free: 1-800-694-2143
E-Mail: info@artandnature.com