"Let My Spirit Soar"
By
Bev Doolittle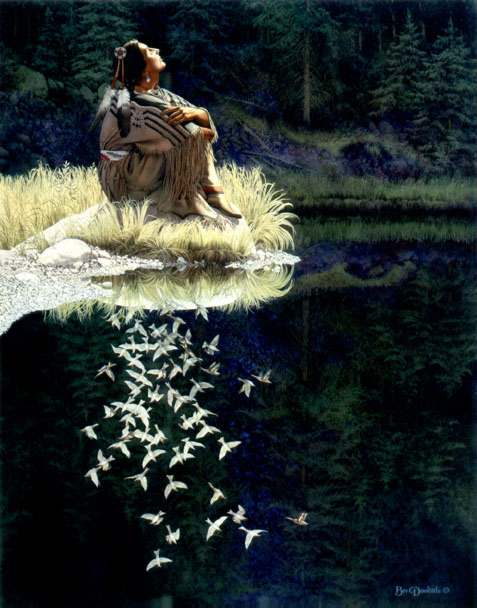 ---
"Let My Spirit Soar" by Bev Doolittle
Limited Edition On Paper
Edition size : 1,500 signed and numbered prints
Image size : 22-1/4" x 28-1/8"
Issue Price : $325.00 Canadian; U.S. $195.00
Issue date : March 1984
Publisher Sold Out
Price Available Upon Request
"My thoughts fly up like birds it the sky.
I am free. I can fly.
I go everywhere. I see everything.
Towering mountain ranges
and a tiny flower growing in the desert.
I see cities and highways and a fallen tree
I see a grandmother telling a story to a child.
I sit quietly
But my thoughts fly up like the birds in the sky.
Only I know where they go.
When you sit quietly,where do your thoughts go?
What do you see?" - Bev Doolittle

Visit All Of Our Bev Doolittle Galleries
Bev Doolittle Main Page
Bev Doolittle Upcoming & Recent Releases


Bev Doolittle Limited Editions


Bev Doolittle Posters & Open Edition Prints


Bev Doolittle Books, Art Cards, Etc.
Call Toll-Free
1-800-694-2143
Art & Nature
16887 Hymus Blvd., Kirkland,
Montreal, Quebec, Canada
Tel.: 1-514-694-2143; Toll-Free: 1-800-694-2143
E-Mail: info@artandnature.com