"Pintos"
By
Bev Doolittle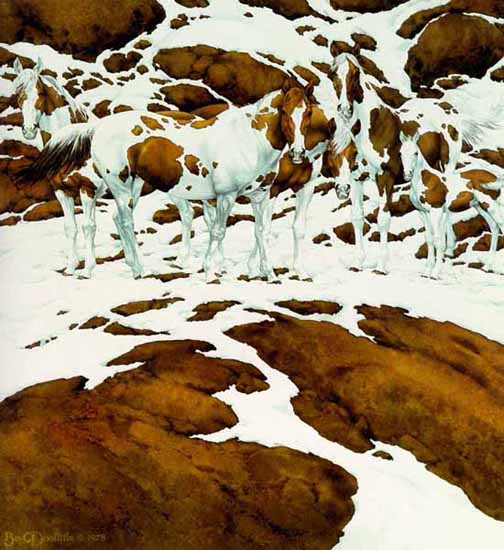 ---
"Pintos" by Bev Doolittle
Limited Edition On Paper
Edition size : 1,000 signed and numbered prints
Image size : 21" x 21"
Issue Price : $110.00 Canadian; U.S. $65.00
Issue date : September 1979
Publisher Sold Out
Price Available Upon Request
"I was observing a small group of chestnut horses in a grassy meadow when I became aware that they were 'observing' me. This seemed like an interesting situation for a painting. I also thought it would be fun to have the horses observing you, the viewer, before you could find the horses! So I began to think of ways to camouflage them. The chestnut horses became Pintos, and the grassy meadow turned into a backdrop of rocks and snow." - Bev Doolittle

Visit All Of Our Bev Doolittle Galleries
Bev Doolittle Main Page
Bev Doolittle Upcoming & Recent Releases


Bev Doolittle Limited Editions


Bev Doolittle Posters & Open Edition Prints


Bev Doolittle Books, Art Cards, Etc.
Call Toll-Free
1-800-694-2143
Art & Nature
16887 Hymus Blvd., Kirkland,
Montreal, Quebec, Canada
Tel.: 1-514-694-2143; Toll-Free: 1-800-694-2143
E-Mail: info@artandnature.com