"Runs With Thunder"
By
Bev Doolittle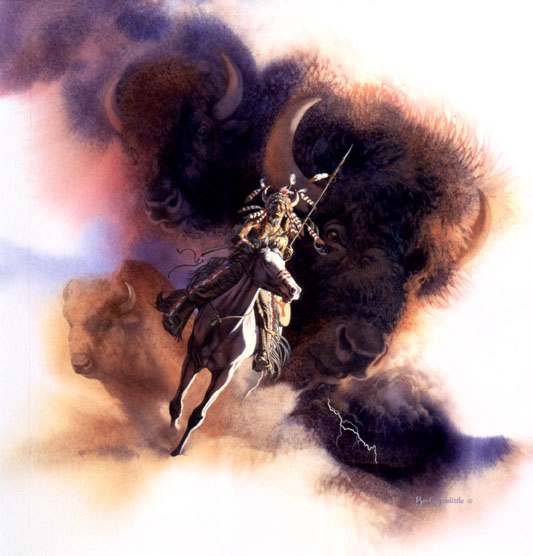 ---
"Runs With Thunder" by Bev Doolittle
Limited Edition On Paper
Edition size : 1,500 signed and numbered prints
Image size : 22-1/4" x 23-7/8"
Issue Price : $250.00 Canadian; U.S. $150.00
Issue date : November 1983
Publisher Sold Out
Price Available Upon Request
"To the Planes Indian the buffalo meant life. The buffalo provided almost everything necessary to the Indian's daily life-food, clothing, and shelter. It was no wonder the buffalo were so revered. This Sioux warrior has chosen the buffalo as his Spirit protector and supernatural helper. The sounds of thunder and the thundering hooves of a herd of buffalo are apt to sound alike. It seemed appropriate to visually relate buffalo with thunder. This similarity became the inspiration for both the Indians name and the title of this painting." - Bev Doolittle

Visit All Of Our Bev Doolittle Galleries
Bev Doolittle Main Page
Bev Doolittle Upcoming & Recent Releases


Bev Doolittle Limited Editions


Bev Doolittle Posters & Open Edition Prints


Bev Doolittle Books, Art Cards, Etc.
Call Toll-Free
1-800-694-2143
Art & Nature
16887 Hymus Blvd., Kirkland,
Montreal, Quebec, Canada
Tel.: 1-514-694-2143; Toll-Free: 1-800-694-2143
E-Mail: info@artandnature.com