"Rushing War Eagle"
By
Bev Doolittle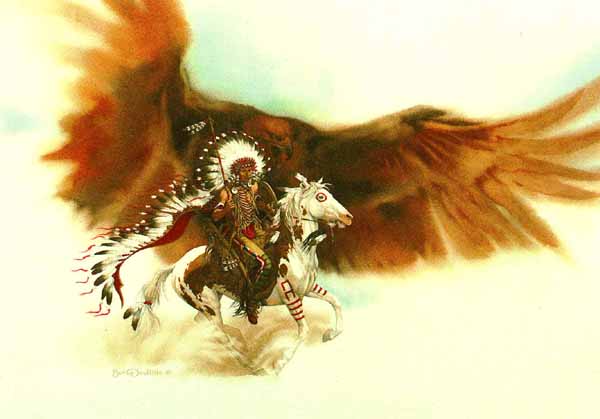 ---
"Rushing War Eagle" by Bev Doolittle
Limited Edition On Paper
Edition size : 1,500 signed and numbered prints
Image size : 28-1/8" x 20-1/2"
Issue Price : $250.00 Canadian; U.S. $150.00
Issue date : March 1983
Publisher Sold Out
Price Available Upon Request
"From the time that an Indian is a boy, he seeks to become more and more like the animal he has chosen to be his helper thoughout life. When a warrior adorns himself with eagle's feathers, claws and bones, he bringss to himself the special strengths and abilities of the great Eagle Spirit. Rushing War Eagle is a painting of a warrior who has been empowered by his chosen protector - the golden eagle." - Bev Doolittle

Visit All Of Our Bev Doolittle Galleries
Bev Doolittle Main Page
Bev Doolittle Upcoming & Recent Releases


Bev Doolittle Limited Editions


Bev Doolittle Posters & Open Edition Prints


Bev Doolittle Books, Art Cards, Etc.
Call Toll-Free
1-800-694-2143
Art & Nature
16887 Hymus Blvd., Kirkland,
Montreal, Quebec, Canada
Tel.: 1-514-694-2143; Toll-Free: 1-800-694-2143
E-Mail: info@artandnature.com