"Two Bears Of The Blackfeet"
By
Bev Doolittle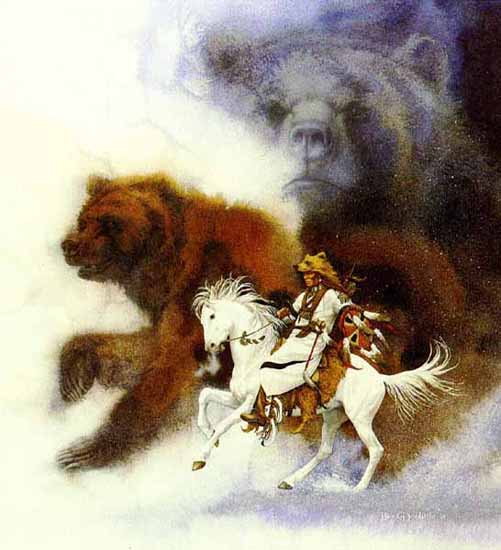 ---
"Two Bears Of The Blackfeet" by Bev Doolittle
Limited Edition On Paper
Edition size : 2,650 signed and numbered prints
Image size : 21-5/8" x 23-7/8"
Issue Price : $375.00 Canadian; U.S. $225.00
Issue date : June 1986
Publisher Sold Out
Price Available Upon Request
"The lives of the Blackfeet Indians were full of danger and uncertainty. Surrounded by a harsh world where attacks by animals or hostile tribes, sickness and starvation were ever-present threats, they relied on the spirit world for protection. For the Plains Indians, the grizzly bear was second only to the buffalo on his supernatural powers. The bear was revered for his strength, agility, vitality and invulnerability to arrows, bullets and other animals. He was also to possess great wisdom and the ability to find herbs to heal his wounds. The Blackfeet warrior Two Bears received the powers of the grizzly in his vision quest. His vision spirit instructed him on the contents of his 'medicine bundle', an important symbol of his powers. Two Bears has studied and emulated the ways of the grizzly and has become a mighty and bear-like warrior, respected and feared by his enemies." - Bev Doolittle

Visit All Of Our Bev Doolittle Galleries
Bev Doolittle Main Page
Bev Doolittle Upcoming & Recent Releases


Bev Doolittle Limited Editions


Bev Doolittle Posters & Open Edition Prints


Bev Doolittle Books, Art Cards, Etc.
Call Toll-Free
1-800-694-2143
Art & Nature
16887 Hymus Blvd., Kirkland,
Montreal, Quebec, Canada
Tel.: 1-514-694-2143; Toll-Free: 1-800-694-2143
E-Mail: info@artandnature.com