"Golden Moments" by Trisha Romance
Limited Edition On Paper
Edition size: 15,000 signed and numbered prints, 450 artist's proofs
Image size : 17" x 14-3/4"
Issue price : $320.00 Canadian; $230.00 U.S.
Giclée Canvas Edition
This is the artist's second canvas print.
Edition Size: 1,500 signed and numbered prints, 150 artist's proofs
Image Size: 22-1/4" x 19-1/8"
Issue Price: Canadian $875.00; US $635.00

"As the gentle autumn winds bring down the ripened chestnuts from their bow, so shall it be time for the arrival of our long awaited Gift of God." - August 1979
"This was a journal entry written more than 23 years ago, just before the birth of our son, Nathan. Little did we know at the time that Tanya and Whitney's birth would also be heralded by the fruit of the mighty chestnut tree."
Although they heard the tale many times, they never seemed to tire of it. Many autumn walks were destined for a welcomed pause ona park bench. With the glistening Niagara River at our feet, we were often caught in the warm glow of an approaching sunset. There was a gilded stillness that always brought reflection and the sharing of a tale or two."
In spite of the hurried pace that we sometimes keep, I count on these "Golden Moments" as special miracles of motherhood! These are the memories that have left finished sketches on my soul." - Trisha Romance
A Special Limited Time Offer
With every purchase of a limited edition of "Golden Moments"
before December 24, 2003
, you will receive a reproduction
of the sketch at no additional charge.
Sketch Size: 14" x 11"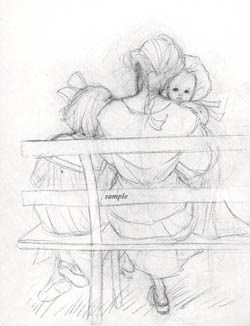 Our Other Trisha Romance Galleries
Trisha Romance Main Page
Trisha Romance Upcoming & Recent Releases


Trisha Romance Limited Editions


Trisha Romance Limited Editions - Sold Out
Trisha Romance Vignette Prints
Trisha Romance Posters



Trisha Romance Collector Plates



Trisha Romance Figurines, Ornaments & Dolls



Trisha Romance Art Cards
Call Toll-Free
1-800-694-2143
Art & Nature
16887 Hymus Blvd., Kirkland,
Montréal, Québec, Canada
Tel.: 1-514-694-2143; Toll-Free: 1-800-694-2143
E-Mail: info@artandnature.com